Caribbean Curry Butternut Squash Soup
Serves
8-10 Star People
Equipment
immersion blender or high speed blender
---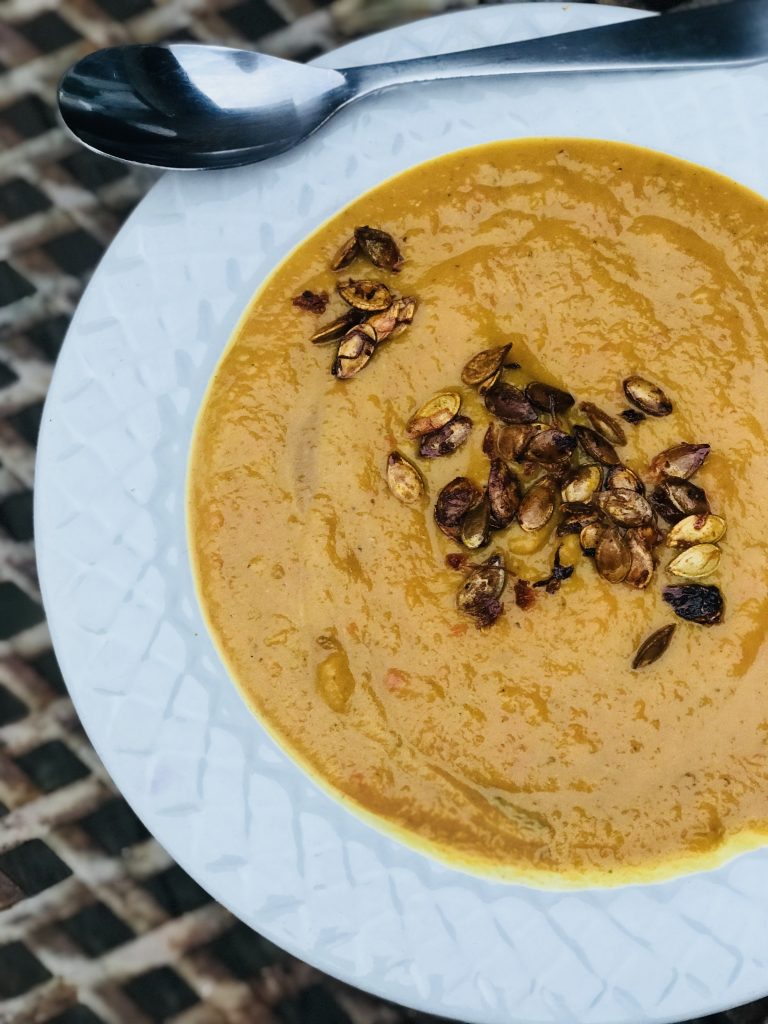 Snow, y'all. It's December and snow is upon us. So that means it's soup season yo. When it gets cold, and the weather outside gets frightful, we want warm food that's easy going down and that nourishes the body and the soul. This here soup, just about covers it.  It's sweet and savory and versatile and just flipping yummy. It also has some unexpected ingredients that one may not expect in a winter soup. The Caribbean flavors will send your tastebuds to a tropical island, while the fresh turmeric root will keep you cozy wherever you are.  I will say with some amount of emphasis, that this soup was a total creative journey, if only because I ventured way outside of how I usually prepare my butternut squash soup. But, honty. It's so, so, so worth it. Bonus: whilst I was playing with flavors, I came up with a gorgeous first course that will add a Blackety Black turn up to your holiday entertaining menu. Don't. Play.   Kwanzaa season is upon us.
---
Ingredients
---
Instructions
Pre-heat oven to 350 degrees.

Cut squash in half lengthwise. I kept the seeds in whilst roasting because I think it adds a depth of flavor once I remove them and crisp them up and salt them as a topper. smear each half with oil and salt lightly if you want. Place squash flesh-side down on your roasting pans, large glass casseroles or cookie sheets. I used 2 pans. Roast squash until fragrant and tender, about 30-45 minutes.

Once squash is done, scoop out seeds and reserve in a side jawn bowl--these are going to be tossed in some oil and salt and put back in the oven to crisp up. 10-15 minutes or until golden brown--whilst your'e preparing the soup.

In large stock pot, warm up a smidge of oil on Med heat, then add your chopped onions. Stir until translucent and fragrant, about 5 mins. Add chopped garlic and stir another few minutes. Add your spices,stir. Grate in your tumeric root, stir until fragrant. Add carrot, peppers, and potato. Stir a few more minutes or until jiggy.

Scoop the roasted squash out of the skins and add to stock pan with veggies and spices. Stir about 2 mins.

Add water (you can add more or less depending on your needs and how rich you want your soup.) You can also sub veggie broth. Add both cans of coconut milk + sriracha + honey. Stir. Add chopped banana.

After about 20 minutes, check your flavors, add whatever of the spices you think the soup needs. It usually needs more curry, cumin and salt (unless you use broth). Check to see in your veggies are tender (we're talking carrots and potatoes here). Cook down 10 more minutes or until flavors are well melded and to your liking.

Once veggies are tender and the flavor is good--Blend! I used an immersion blender because it gives me control over texture, but you can use a high speed blender too. Blend until smooth.

Serve hot boo! I sprinkled the toasted butternut seeds on top and ate a whole jawn of naan bread. But it don't even need to be that fancy. Or you can make it super fancy--layered over coconut jasmine rice and black-eyed peas, like you see here. Looking like a bougie Southern Caribbean first course. DO. NOT. PLAY. Kwanzaa season is upon us.

Bonus: If you're going to make this beaut--which will become it's own recipe at some point--prepare jasmine rice according to package instructions. Once cooked, salt and add 3-4 TBS of coconut milk to rice. (yes you can cook the rice in coconut milk, but this is the easy way that doesn't over power the whole of the dish).K. In another pan, prepare black eyes peas. I used Eden brand--it's got no salt, preservatives or gunk. You can also make your beans fresh. Totes up to you.

Layer your coconut rice on the bottom of a cute mason jar. Top the rice layer with a good amount of beans. Then top that with your gorgeous Caribbean Curry Butternut Squash Soup. Spinkle some of them toasted squash seeds on top and serve warm or cold. Lemme tell you something--it's amaze-balls either way.

Caribbean Curry Butternut Sqaush Soup Served 2 Ways!