Cheezy Peppery Spicy Kale Chips
Serves
4-8 Star People
Equipment
Blender or Food processor, Dehydrator or Oven
---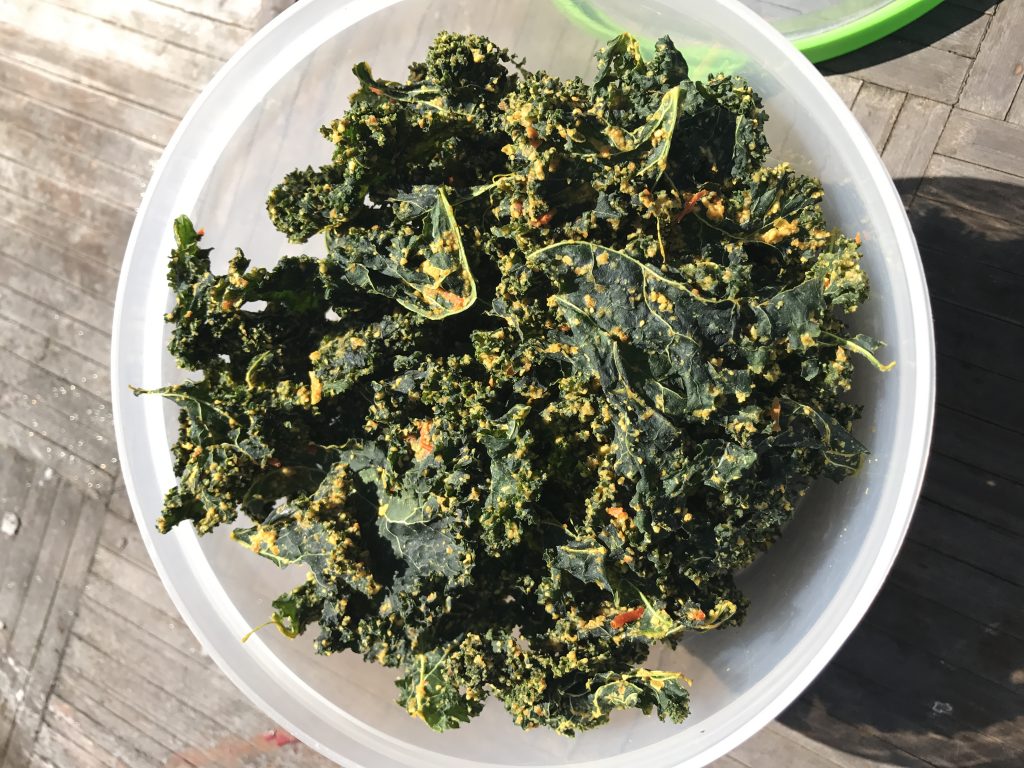 This recipe is inspired by Kimberly Snyder's Cheesy Calcutta Kale Chips recipe. This version is a bit more spicy because me added sriracha for heat–which you can ramp up or tone down to your preference.  I prefer a dehydrator for this recipe (after years of messing them up in the oven), but they can certainly be made in the oven too, just remember to turn your batch midway through the baking process.
---
Ingredients
---
Instructions
Rinse the kale and dry. (Use salad spinner or paper towels). Tear into bite-sized pieces. The idea is that most of the moisture should be removed so the dressing will stick better.

Address the dressing! Combine the remaining ingredients in a food processor or blender. Whirl/blend until smooth.

Pour dressing over kale in a large bowl. Use your hands to massage the dressing into the kale to ensure all the leaves are gorgeously well coated.

If you are using a dehydrator, place the kale on the dehydrator trays, and dehydrate at 110°F overnight, or until crispy. You can flip the kale partway through the dehydration process to ensure that all parts are crispy. I never do, and they always turn out perfect.

If you are using an oven, arrange the kale on 2 baking sheets in a single layer, and bake at the lowest temperature, with the oven door cracked open. Stir the kale chips halfway through the baking process to ensure
all parts are crispy.