Issa Prophecy Sauteed Beet Greens & Onions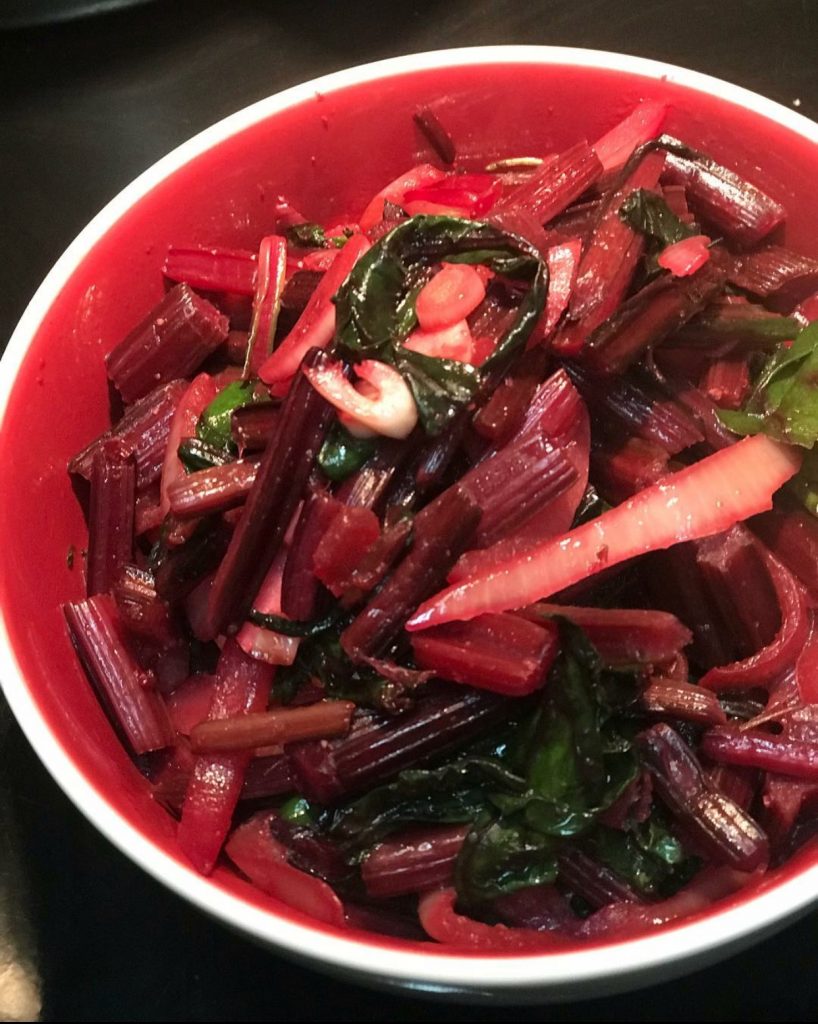 I LOVE beet greens. When I first discovered that I liked beets beyond juice, I was always so confuddled about what to do with the greens. Could you eat them? Make salad with them? Juice them? What do they taste like? Could I cook them like one would kale or spinach?! The answer to all of these questions is Yes! Yes! Yes! and Yes! And they have a delicate, sweet flavor that gives you spinach a little, with a firmer texture. Plus, the pink color they roll with is gorgeous on a plate and the crispness of the stems adds a lil somthin somthin to the palate when you're eating them. Once I tried them sauteed,  I couldn't understand why I ever didn't know what to do with them. I make mine like one would sautee kale–with a lil onion, garlic, EVOO and sea salt and cracked pepper.  This is a totally easy, super simple dish that works well as a colorful side or as a bowl of comfort on its own. Plus, plus, plus beets are tremendous for the blood. Great for an energy boost, perfect after workout because they help with blood flow and really, truly just an amazing, versatile food worth getting to know.  Lettuce Turnip the BEET! Issa prophecy.
---
Ingredients
---
Instructions
Cut the beets for the stems and leaves and set aside for roasting or juicing (whatever you're into boo). Rough chop the leaves and stems into manageable bite-sided pieces. Slice onions and garlic thin or to your liking.

Heat oil in a med sautee pan. Add onions and stir until soft and translucent ( I like to cook the onions until they have a bit of caramelization--which adds a bit for flavor, but you don't have to. Soft is perfect too. Add garlic and stir until just fragrant (if you let garlic live a little and don't over cook them, they keep their gorgeous health benefits and enzymes and adds a health boost to your greens, along with a spicier flavor).

Once you're happy with the onions and garlic, add your greens and stems. Sautee until the greens are a wilted, but most importantly, the stems are tender, but still have a crisp to them and the flavors are well combined. Tatsse to be sure. (Your onions shalt turn a bit pink, but that's okay, bc, BEET greens) About 8-10 minutes. Don't over cook!

Serve immediately, with a side of LOVE.