Q: What Happens when you WAKE UP? Like, not fake woke. But, legit, (red pill, out of the Matrix) wake up?
A: You're ready for The Stellar Trilogy: An otherworldly, SOUL-Fi life manual to help you navigate the process of waking up… and staying (actually) woke.
Q:First things second, Where do I purchase my palpably love-full signed copies?
A: Click the tree.

Book 1: Kai = LOVE.
This book series stars Kai. Kai is you, btw. Kai also has no idea why drama seems to follow her around like a rabid puppy. Meanwhile, she's really just trying to get her groove (and live a normal life or whatever)– but weird stuff just keeps happening. Not the least of which is the blazing, light-shooting (invisible) star-shaped "birthmark" on her forehead. Which, consequently, only showed up when Angelic Cinqo decided to cross her path. It turns out, Kai's unending life drama is about to morph into the adventure of her and her young daughter's life.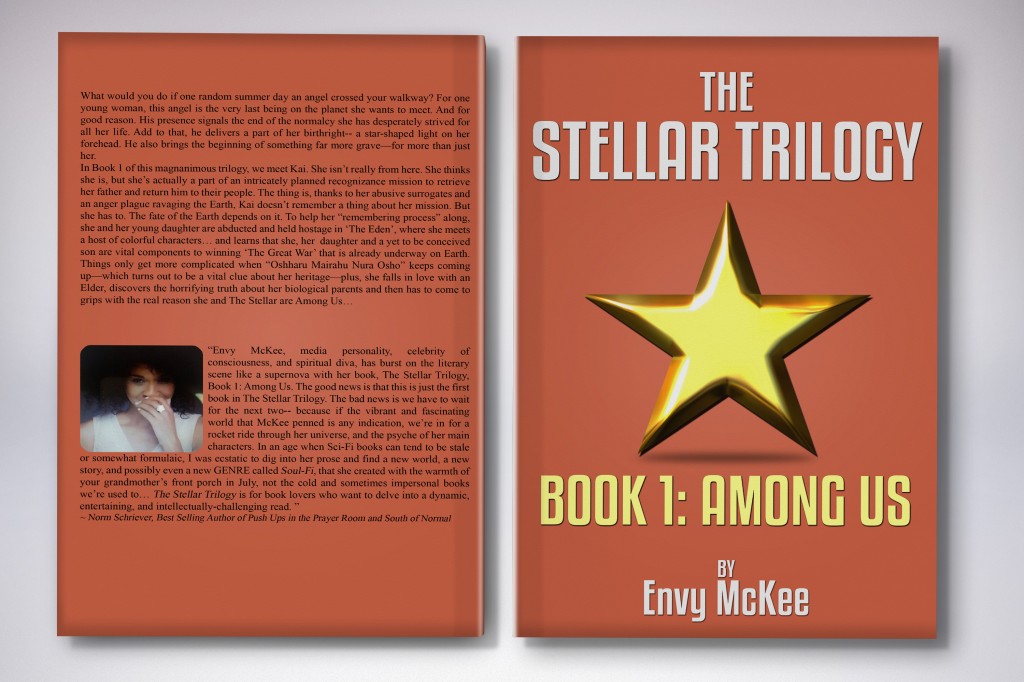 Envy McKee's "The Stellar Trilogy", And The Birth of Soul-fi "Envy McKee is that visionary for whom there is no gray area. You either love her or not. Either way, it's of little consequence, she will always continue to follow her path with or without you. She's not your average bear; and life is her picnic basket. Whether she is on radio, television, or just hanging out with family and friends, McKee is consistent in her core values and beliefs, spreading the gospel of universal consciousness as if she was John the Baptist reincarnate. So, it's no surprise that her first installment, The Stellar Trilogy – Book 1: Among Us, is far removed from the predictable modern day African American literary genre. McKee says she is dismayed at the kinds of conversations we (Black People) keep having with each other. Therefore, she set out to have a different conversation about spirit, spirituality, and our truest nature. "Instead of writing a "self-help" book for which there are thousands, I wrote an adventure story," she said in our two-hour long interview. She added, "The caveat is that the lead character Kai– is all of us…male and female. Kai means love, and love is what we are in a fundamental sense".  Dubbed a "Soul-fi", Book 1 of the Trilogy seems to be a cross between 'Angels and Demons' and 'The Matrix'. Each chapter challenges us to reconsider the zeitgeist of human thought, and invites us to question the inter-generational archetypes of our collective beliefs.The interaction and self-actualization of the characters are so central to today's growing movement of modern enlightenment, it has the potential to shape future imagination and thought.  Everything in this book is worth reading, if nothing more than for the refreshing idealisms and the fierce, descriptive elegance of McKee's prose. It is a story of self-discovery, beauty, triumph and wonder-despite all odds. It's deep…it's funny…it's weird and refreshing, scary and unusual. It's definitely a journey you won't soon forget."
~ Michael Quintero-Moore, Backline Magazine
Book 2: Superhero School. Sort of.
The second installment of The Stellar Trilogy, starts out rocky for our dearest Kai. But things quickly pick up and spread out. She meets her true family, who take her to her true planet to meet "the moon". And her true self. Huh? They also send her on a whirlwind journey of collecting talents, healing past wounds, and learning the infinitely perfect ways of the Stai (with Kai's perfectly placed eye rolls and side eyes in tow). It's the right thing to do.  The better news is that the seemingly perfect Stai come with quite possibly perfect and utterly gorgeous men–I mean people, ALL of them– who do absolutely perfect things with their plentiful Stai powers. Want to change your whole ENTIRE life? Say hello to Sacred Sexuality. 50 Shades has nada on Lovai honty.  While Kai must make some serious peace with and make sense of her horrendous past, she also gets to "make up" for lost time in her present. All the years the locusts have eaten will be restored. Indeed. Edge!

"If you are a fan/follower of Envy McKee's ineluctable classic The Stellar Trilogy, you can finally relax. Book 2-Awake, is now available for your literary consumption and critique. However, be forewarned. The second installment proves to be a much faster and more intense ride; for which there will be an occasional "OMG" and a few "WTFs" along the way, as you experience McKee's wonderfully warped sense of "surreality" (yes, I made that word up). In Awake, seven years have passed, and this once resilient, self-assured, and slightly audacious young woman, is now on the edge of insanity. What she thought she knew is even less than what she knew before. In this segment, Kai meets the biological family she never knew existed, and travels to the land of her "true" people to Meet the Moon,to claim her birthright, which Mckeee says "is a vital step toward completing her real mission". Conversely, she has two obstacles on this particular journey…a villainous Umpshai monk and a ne'er-do-well band of apocryphal beings called The Dozen of Derg. The Derg returns to complete their own mission of destroying the Earth's inhabitants. Kai must learn the ways ofThe Stai to acquire a series of Talents she needs to complete her objective. Only then, can she and her family return to Earth, balance the Entwine and save the planet from The Derg. It is now we see the emergence of a new kind of superhero. Her name is Kai of TuStai. The Stellar Trilogy is an odd bird, purposely designed that way, because it sets the tone for this neo-genre McKee calls "Soul-Fi". There is one prerequisite. You should be a tad "eccentric" or at least extremely open-minded to appreciate all McKee has done with this multifarious plot. Technically, McKee's skills are impeccable in terms of continuity and character development. Considering again, the intricacies involved in creating such a potential masterpiece, it is because of the continuity, one cannot help but speculate if Kai is McKee's alter ego….or vice versa. Only Envy McKee (or Kai) knows for sure. Might I suggest a carafe of Chardonnay or a bottle of Brandy to accompany you on this journey?"
~ Michael Quintero-Moore, Backline Magazine
Book 3: War is coming… it's time to be the light boo.
Holy Star People Batman! What in the what is happening on Earth?! Folk keep talking about war. Is a war really coming tho? Kai and the fam are back on the Earth plane and all hell is breaking loose–in Kai mostly. She's got some serious trust issues still to werk through and her new fam ain't making a single thing easier for her. Tuh!  Plus, they've got a big purpose to fulfill ( a mythic tree to plant–God knows where, an "evil" father to return to TuStai–God knows how, A world to save–God knows why. And an Entwine to balance. And drama to thwart. And exes to shade. Star People style, of course). Plus, new members of Kai's tribe keep turning up to wreak havoc on Kai's very, very, very fragile peace. Adjustments, indeed. Welcome to Book 3.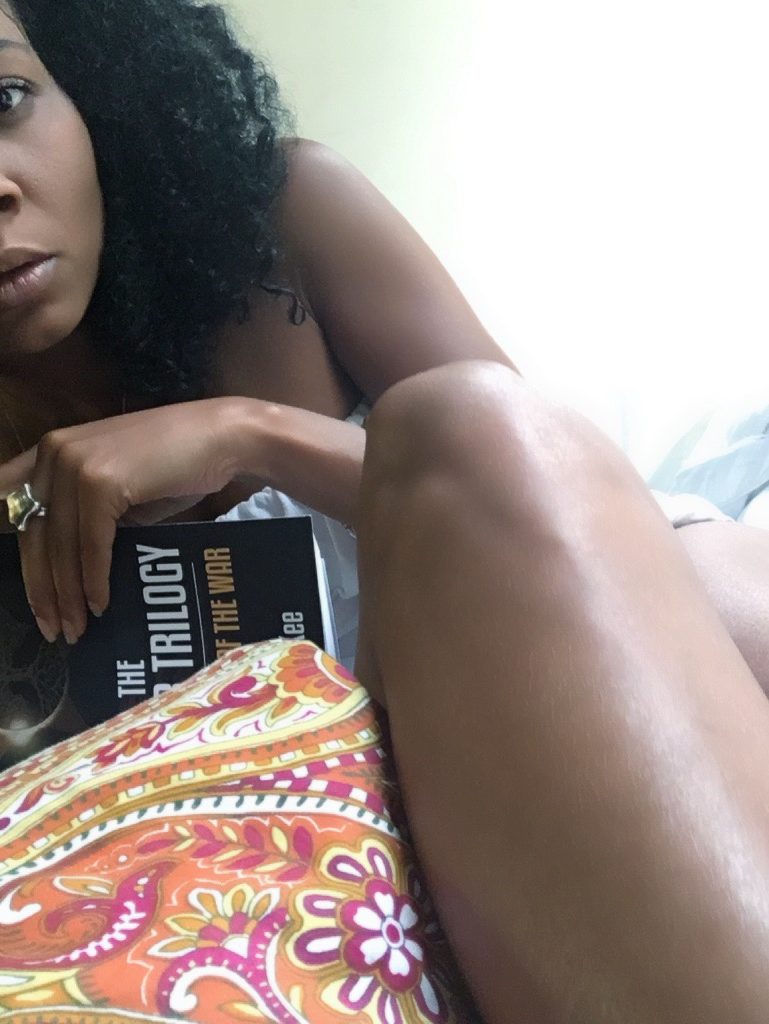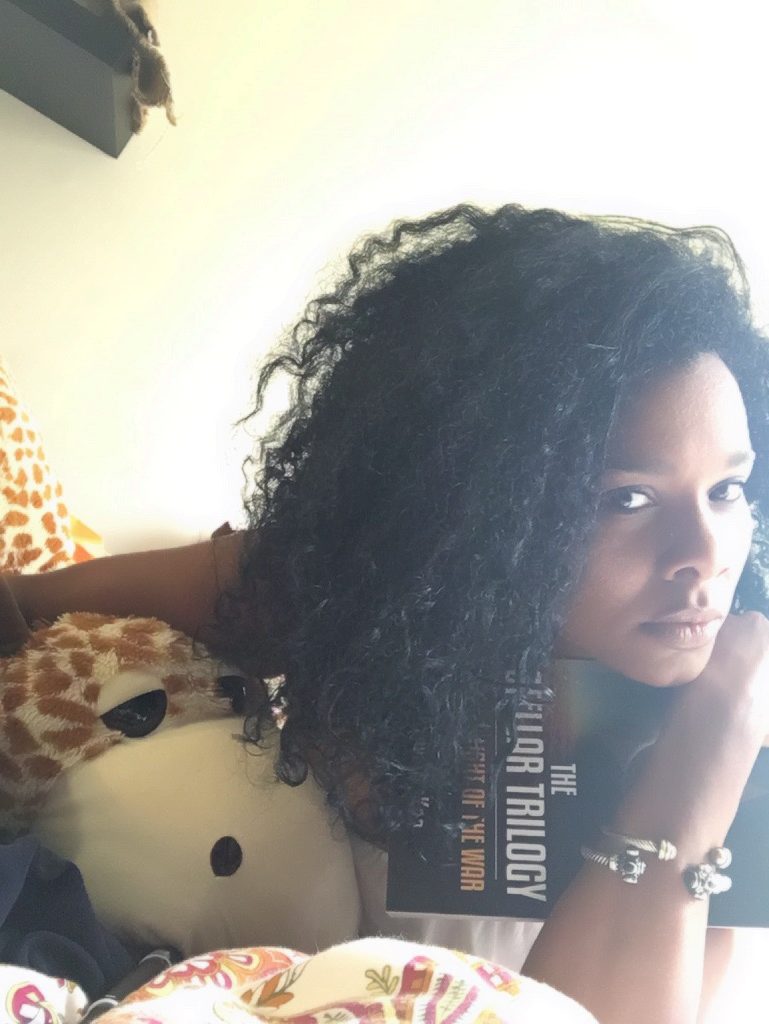 "It was not long ago that Envy McKee unleashed The Stellar Trilogy, Book 1: Among Us upon the universe and introduced us mere mortals to a distinctly new and unconventional genre of science fiction she passionately calls SOUL-Fi. Three books and a cult following later,we find McKee up to her usual literary shenanigans for which her fans will expect no less. Followers of the Trilogy will be happy to know the final installment, Book 3: Light of the War, stays on course with its collection of prodigious characters, breathtaking imagery- that one could only envision on the big screen- and complex and yet forthright phraseologies. Like its predecessors, Light of the War continues to bend the rules and smash through the archaic paradigms of yesteryear, leaving even the most ardent disciple of classical prose teary-eyed with admiration. To paraphrase a well-known science fiction phrase, Book 3: Light of the War invites us to boldly go where no reader has gone before. One can only hope there will be a movie deal in the future." -G.S. Jones, Author, Sanctuary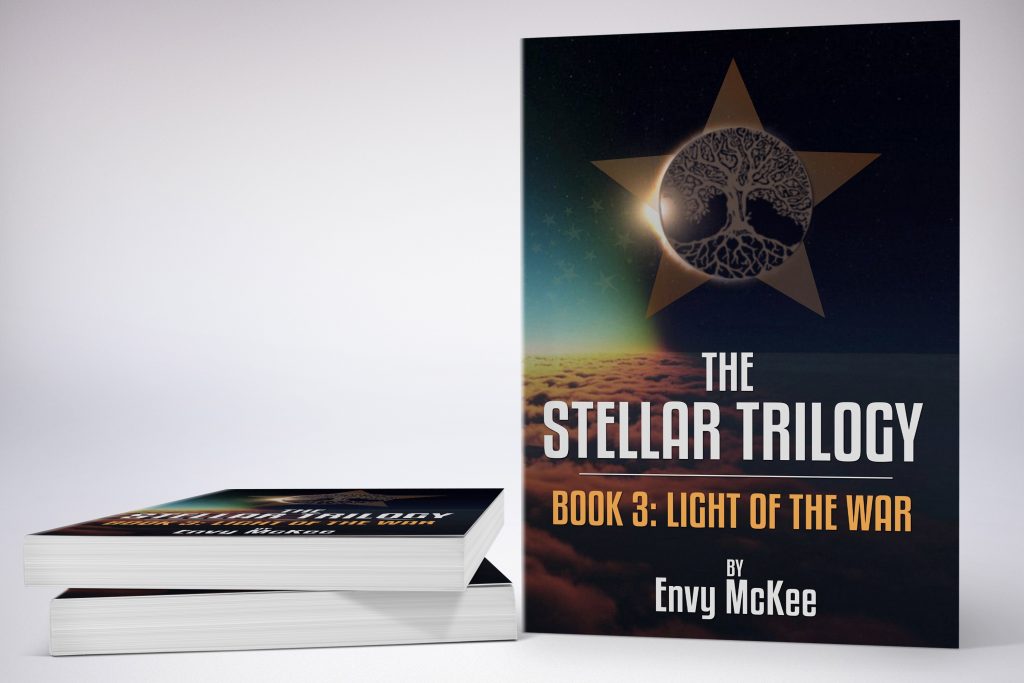 Look at all this L.O.V.E. for The Stellar Trilogy!
"Envy McKee, media personality, celebrity of consciousness, and spiritual diva, has burst on the literary scene like a supernova with her new book, Among Us. The good news is that this is just the first book in the Stellar Trilogy. The bad news is we have to wait for the next two, because if the vibrant and fascinating world that McKee penned is any indication, we're in for a rocket ride through her universe, and the psyche of her main characters. In an age when sci-fi books can tend to be stale or somewhat formulaic, I was ecstatic to dig into her prose and find a new world, a new story, and possibly even a new GENRE that she created with the warmth of your grandmother's front porch in July, not the cold and sometimes impersonal books we're used to… I highly recommend Among Us to book lovers who want to delve into a dynamic, entertaining, and intellectually-challenging read. "

Star Queen Joy!

~ Norm Schriever, Best Selling Author of Push Ups in the Prayer Room and South of Normal

"In first reading this book, I was instantly intrigued by the words that were flowing down each page. Never have I ever jumped head first into a book and planted myself in the main character's body like I did with Kai. I found so much of myself in her character that I was even thinking her thoughts and asking the same questions as she was in the book. I would ponder each move like it was happening to me in my real life. She pulls you in and you are completely captivated. As I approached the end, I knew I would be left thirsting for more… This book is brilliant!" ~Imani F.

"I never write reviews for books. A friend told me about this book and totally did not expect it to be as good as it was. The journey was of self discovery, faith, inner strength and finding purpose, all mixed with the elements of pop culture and one of the best love stories I have ever read. This one I'm sure I'll be front row in my local movie theater to see it on the big screen. I cant wait for book 2 to hit the shelves! Five Stars!"~ Terri T.

"In reading this tale I found myself lost in the lead character Kai's state of mind, emotions, and physical location. I was worried, felt her pain, sorrow, and joy. I am ready and waiting for books 2 & 3. Kudos to the author and everyone who helped shape this great read!" ~ Joy W. 

Flawless!!! Another masterpiece from the brilliant mind of Envy McKee. The journey this book takes you on is one that keeps you begging for more with each turning page. You have no choice but to jump into Kai and go through every emotion and feel the waves of lessons that she encounters. You will often find yourself applying her lessons into your own life. As you continue to read you will come to realize that this book is no ordinary book. Moments were Kai is being guided, you to will be guided to get you through something in your life that you have no idea you were even going through. It's brilliant, magnificent, mind-blowing and self healing if you allow your mind to just BE FREE as you read. Don't think just read and it will come to you……. then you will soon understand that this book you have been reading is a self-help book!!!! Who does that?? Who writes a sci-fi, self help book that has a super hero in it??? (Yes a super hero because Kai is just that and she will quickly become one of your favorites.)  Well Ms. Envy McKee can and DID write such a book. I promise you this book is worth the read and will have you begging for book 3 as soon as you read the last word and throw the book across the room!!" ~Imani F.
"Unbelievably amazing!!! Envy McKee has returned with a force!! I couldn't wait for the second part and now i have it!! What a refreshing Sci-Fi adventure!! You realize without even realizing that during Kai's journey to take her rightful place, Kai of TuStai, and to balance the Entwine, that you are indeed Kai! When have you seen this?? NEVER!!! A Sci-Fi personal development Trilogy??!! The battle with the Dozen of Derg, finding out who Kwa-yin is, the meeting with the elders, and the intertwining of Kai and Mahee to create their Haiu….AAAAAHHHHHHHHH, Edge!! This will have you yearning for MORE! This woman we know as Envy McKee is truly a visionary! You'll see, for this is a MUST READ, after the first one of course! I'm still rolling my eyes with my arms folded because I have to wait again… Osho Lovianhal" ~Divine I.
"Get your super hero "ON" in this second installment of "The Stellar Trilogy". As if book 1 didn't inspire greatness, book 2 is on TURBO. As I delve into the mind of each character, I learn so much about myself. Envy's superior articulation, bold and in-your-face, compelling, and humorous brand of writing is sure to keep you salivating from one chapter to the next. Have your cape on hand. Powerful stuff….can't wait for book 3!!!!!! Thank you Envy. Please do the movie!!!!!!" ~OmniFlow